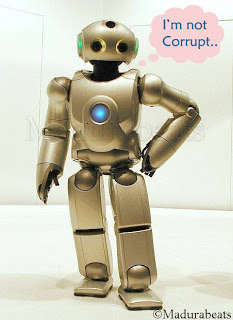 But i have a reason to support the robots.. Imagine a Govt office full of robots.. and now you support me.
Yep .. To crush the corruption from our govt offices, Robots are the only choice we have. Many fed up Indians like me and even Anna hazare will support this.
Why not?
In 2025, Robots could fill 3.5 million human jobs in Japan. This because of the shrinking population of japan.
Industrial Robots already occupies most of the industrial jobs of humans
Snake wranglers started using robots to find and catch snakes and that reduces the risk of snake bites..
Robotization
is important than privatization in Govt offices,
The productivity will improve with Robots.
Robots never asks Bribe (This is key..)
But if a govt officer trained a robot, Then Robot also ask bribe..
Related:
Corruption