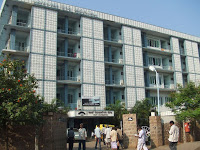 Starting as a modest 20-bed hospital, Aravind had grown into a 1,400-bed hospital complex by 1992. It had by then screened 3.65 million patients and performed more than 335,000 cataract surgeries,
nearly 70% of them free of cost for the poorest of India's blind population. Aravind's founder, Dr. Venkataswamy, now 74 years old, had a goal to spread the Aravind model to every nook and corner of India, Asia, and Africa. The case sets the stage for developing such a plan of action.
Aravind Eye Care System today, is the largest and most productive eye care facility in the world. From April 2007 to March 2008, about 2.4 million persons have received outpatient eye care and over 285,000 have undergone eye surgeries at the Aravind Eye Hospitals at Madurai, Theni, Tirunelveli, Coimbatore and Puducherry.
Blending traditional hospitality with state-of-the-art ophthalmic care, Aravind offers comprehensive eye care in the most systematic way attracting patients from all around the world.
Rotary Aravind International Eye Bank (RAIEB) celebrated its 10 years of Eye Banking at LAICO on May 1, 2009 when the Active Eye collection centres from 12 districts of Tamil nadu were honored.
The programme started with the lighting of Kuthuvilakku by Dr. P. Namperumalsamy, Chairman, Dr.G.Natchiar, Vice-Chairman, past rotary governors Rtn.Ramanathan, Rtn.Shanmugasundaram and Mr.Lalji Vora. (Milan Proprietor). Dr.S.R.Krishnadas, CMO, Aravind-Madurai delivered welcome address.
Dr.P.Namperumalsamy released the 10 yrs souvenir and appreciated the Eye Collection centres for their wonderful work. Felicitation address was given by Dr.Kousalya Devi, Kasthuribai Hospital, Gandhigram, Rtn. M.N.Nayagam, Rtn.Ramanathan, Rtn.Lalji Vora and Rtn.Shanmugasundaram. Dr.M.Srinivasan, D irector-AECS and RAIEB, explained the genesis of Madurai Eye Bank Association (MEBA) and RAIEB. Various Lions Clubs and NGO s were honored during the celebration for the collection of 14,232 eyes in 10 years. Ms. Hepsiba Jawahar, Eye Bank manager delivered vote of thanks.
Contact Address:
Aravind
Eye Hospital
586/1, PKN Road
Anna nagar
Madurai - 625020
Phone: 2532653, 2535434
Email ID: aravind@aravind.org
Website
:
Back to hosmitals
Disclaimer:


This is a public interest info,

We are not responsible for

functionality

of the hospital or individual

experiences.