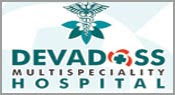 Devadoss MH, is a super specialty hospital with wide ranging facilities and dedicated, whole sum patient care.Our team of expert doctors work 24 hrs a day to give the patients the needed care at the right time.
Chairman Prof.A.Devadoss, is well known in the region practicing orthopedic surgery for the last 40years.His vision to provide the best health care under one roof has brought about Devadoss MH.
The hospital is a 110 bedded, with a variety of rooms to choose from according to priority of patient.The rooms are designed for utmost patient convenience keeping in mind the costs. Rooms have an attached bathroom with 24 hr hot water from environment friendly solar water heaters, cable television.Every room also has central oxygen and suction connection for immediate care of the patient in case of emergencies. Special hospital furniture also helps to position patients comfortably after surgery or when needed. Special suite room and super deluxe rooms are available for those who prefer.There are 18 intensive care beds available all with monitors which are connected to a central computer for monitoring.
All beds have connection for sophisticated ventilator machine were new born of 900 gm weight can be given artificial breathing. Doctors and nurses working in the ICU have undergone special training for treating patients in the intensive care unit.Four state of art operating theatres with laminar airflow and steel walls with anti-bacterial coating help the surgeons to perform sophisticated operations. Laproscopic surgeries, arthroscopic surgeries, endoscopic
ENT surgeries, thoracoscopy and hysteroscopy ate some of the key hole surgeries performed. Joint replacement, micro-vascular surgeries to re implant severed hands, toes, fingers, cosmetic procedures, neuro surgeries, cancer surgeries are some of the specialized procedures performed in the hospital.
DEVADOSS MULTI SPECIALTY HOSPITAL
75/1,Kodikulam,Alagarkoil Main Road,
Surveyor Colony Road,k.Pudur,
Madurai-625 007,India.
Phone:0452 - 2565067
E-Mail : dmh@devadosshospitals.com
Website
Back to Hospitals
Disclaimer:


This is a public interest info,

We are not responsible for

functionality

of the hospital or individual

experiences.