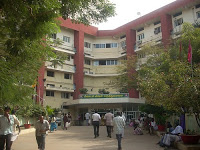 The Meenakshi Mission Hospital and Research Centre is a 500-bed non profit hospital and medical research facility. The hospital has been in operation since 1990, servicing the Madurai and Southern Tamil Nadu region with 46 specialized medical departments.
S.R. Trust is a non-profit organization registered under the Indian Trust Act on May 9, 1985. Mr. Lal Beer, American Christian Missionary taught Dr. N. Sethuraman, Founder President, S.R. Trust sense of ethics, ideals and values to develop into a moral person in life. Thiru. Manickavasagam a Missionary,his Teacher and mentor inspired and motivated him to become an eminent doctor and to establish S.R.Trust into a full-fledged service organization.
MMHRC's broad array of highly qualified physicians provide all specialty and super specialty medical services. The exceptional performance of medical staff and employees leads to quality outcomes for Meenakshi patients, resulting in recognition and continuous accreditation by ISO.
Meenakshi Mission Hospital hospital has been awarded for its "social responsibility initiative of the year 2007" from GE Modern Medical Award.
Over and above the excellence in medical care and clinical research, Meenakshi Mission Hospital have its social commitment to serve poor and needy. To achieve this objective Meenakshi Mission Hospital collaborated with The Smile Train, USA and performed more than 2000 quality corrective surgeries for cleft lip/palate free of cost. In recognition of the services The Smile Train USA has awarded a citation to Dr. S. Gurushankar, Vice Chairman, in a function held at the head office in New York.
Most importantly, Meenakshi Mission Hospital and Research Centre embraces a clearly articulated set of values that guide and set the tone throughout the entire organization. Basic beliefs of acting with human dignity, compassion, justice, excellence and stewardship have been guiding principles for over 18 years. These accolades are reflected throughout the organization and embarking on the development of D-Wing at MMHRC to make outstanding medical care easily accessible, particular in expanding the patient services in the years to come.
Meenakshi Mission Hospital
Lake Area,
Melur Road,
Madurai, Tamilnadu, 625 107
India
Tel: + 91-0452-2588741
Fax: +91-0452-2586353
Website
Back to Hospitals
Disclaimer:


This is a public interest info,

We are not responsible for

functionality

of the hospital or individual

experiences.