Volkswagen
founded as a small company in 1937, but today its a largest car making company in Europe.
Volkswagen
's journey in India actually started in 2001 with launch of its
Skoda
brand, Brand
Volkswagen
and brand
Audi
launched in India at 2007.
Volkswagen India
headquarters in Pune.
Volkswagen Cars in India
: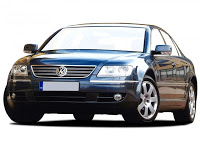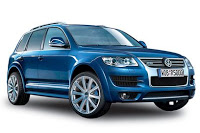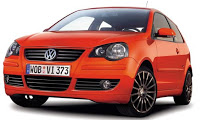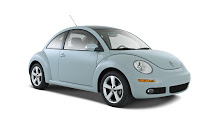 New polo:
Polo
seems to be a normal budget car like Indica but its safety and design features makes it a better car.
New Polo built tough with a high-strength
Steel body
(no plastic toy..)
and
dual airbags
along with an anti-lock braking system makes it the
Safest Car
.
Design
&
Comfort
Stylish, elegant and understated, the new Polo is designed to stand the test of time. Beautifully crafted inside and out.Inch by inch details make New Polo a classic
Volkswagen
, it is a testament to
Volkswagen
's lasting quality standards.You surely note the level of comfort,that makes it a must have personal car.
New Polo
available on these variants: Trend line, Comfort line & High line.
New Beetle
:
New Beetle is a typical Volkswagen classic.
Safety
assures with ESP, ABS. talking of
airbags
it contains four airbags ,Galvanized body gives protection against rust.
Comfort and convenience
In
New Beetle
, you enjoy the comfort and convenience, Right from the 116PS (85 KW) engine version, it includes electrically adjustable and heated door mirrors, power steering, color-keyed door mirror housings, door handles and bumpers and, the legendary flower vase.
Tauareg
Again its a safest,classy,elegant Volkswagen product.
Taureg
a luxurious car.I don't want to say it again and again its a
Big
piece of German engineering marvel by
Volkswagen
.
Phaeton
and
The passat
Both were feel good luxury cars and loaded with unique features of their own. Most Importantly
Volkswagen
's features.
Jetta:
The complete version of
Jetta
not available in India.
Customer experience
:
The marvel of German engineering, The sales guys at
Volkswagen
Madurai were a bunch of unimpressive folks. They constantly insisted us on test driving a petrol version as the diesel version didn't had a TD car. Also they wanted us to believe that
Volkswagen
has service stations every small towns in India. The sales guys didn't even had a basic idea of English, let alone fluency. Surely the experience at
Volkswagen
Madurai was pathetic. But I think
Volkswagen
needs to rethink about the
Volkswagen
Madurai dealership. Being a global leader, they cannot let this happen in Madurai.
Where to Buy Volkswagen in Madurai?
Volkswagen
Ramani Cars Private Limited
D1 - SIDCO Industrial Estate, GST Road, Kappalur,
Madurai
-
625008
,
Tamil Nadu
,
India
.
Phone no: 0452
2489933,2489955
Fax: 0452 - 2489888
Visit Volkswagen Website
Email: salesmdu@vw-ramanicars.co.in,servicemdu@vw-ramanicars.co.in
Head Of Sales Mobile Number: 95009 44464
Service Head Mobile Number: 95007 05544
Check out other Car dealers in Madurai