Pigeon Baby Established in 1957,Pigeon is committed to delivering only the finest quality are products.

PIGEON Baby Wipes :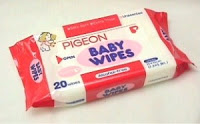 * Silky soft and extra thick like soft washcloth.
* Strong enough because of high quality non-woven fabric, so the wipes are not easily torn unlike regular paper wipes.
* Specially formulated in a solution to gently clean and moisturize your baby's delicate skin.
* Gentle enough to clean your baby's face and hands
* In a new "Easy One Hand" and "One-at-a-time" dispenser which makes diaper changing much easier.
* In hygienic pack with a new "click-open/click-shut" lid which also prevents the wipes from drying.
* Conveniently and compactly packaged to use at home or away.
Nipples and Nursing Accessories:
When a baby sucks milk, the shape of the nipple changes with the power of his tongue.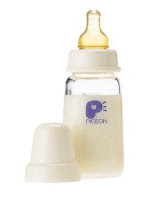 The movement is vital for facial development.
Feeding Bottles:
PIGEON Baby is absolutely committed to the small details that ensure that every PIGEON Baby product is safe convenient and easy to use. Bottles and nipples are intended for daily use by new born and infants, and are manufactured to meet the highest quality standards
Other Baby Products:
Pacifiers,Toys and Safety Pins

Baby Toothbrush and Health Care
Baby Food Maker and Food Feeders
MagMag Training Cups and System
Nipple Shield
Breast Pump
Soap & Shampoo
Baby Liquid Soap
Baby Powder
Baby Powder Case With Puff
Pigeon Baby