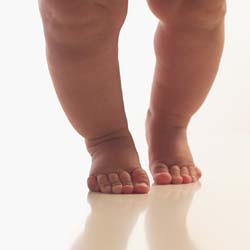 Here are some tips to help prepare for the arrival of your new baby. Be sure to childproof the house, encourage everyone who will be around the baby to stop smoking, and choose a doctor for your new baby.
Clothing:


These are some of the newborn clothing and linen items that your baby will need. Remember that term babies quickly grow out of newborn size clothing and you should consider buying three to six month old sizes and allowing your baby to grow into them. Always purchase flame retardant clothing and follow washing instructions.
What you need when a baby's home coming:
5-7 undershirts
3-4 stretch suits with feet
3-8 night gowns (with drawstring bottoms)
1-2 sweaters
1-2 hats
1-2 sets of baby washcloths and towels (hooded)
3-4 dozen newborn diapers (plus 3-4 waterproof pants and diaper pins if using cloth diapers)
4-6 receiving blankets
2-3 pairs of booties or socks (you won't need shoes until he is walking well)
2 washable bibs
4-6 cotton diapers to use as burp rags
3-4 fitted sheets
2 quilted mattress pads
2-6 waterproof pads
2 crib blankets or comforters
1-2 blankets for the carriage or stroller.
Feeding accessories you may need include:

12 4-8oz nursing bottles if formula feeding. Pyrex and plastic bottles are more durable than glass, but glass bottles are easier to clean.
Extra nipples if formula feeding.
1 set of bottle brush/nipple brushes
Furniture


Be sure to try and buy furniture that is flame resistant or flame retardant. Furniture that you may need includes:

1 bassinet or cradle (or you may move directly to a crib)
1 crib, mattress and bumper set.
2 sets of bedding for the crib
1 changing table
1 diaper pail
1 washtub
1 high chair with safety strap (used for feeding once your child is able to sit without support)
stationary baby walker or play center (optional)
1 playpen (optional)
1 rocking chair (optional)
an automatic stand-alone swing (to be used once your child is able to sit up on his own)
Safety supplies
These items are necessary to child proof your house:
plastic covers for electric outlets
safety latches for cabinets
plastic corner guards for furniture edges
gates for stairs and doors and guards for windows if you are above the first floor.
nonskid backing for rugs
Supplies to avoid

You will not need these supplies that either have the potential to be dangerous and are just plain unnecessary:

mobile baby walker (can be very dangerous and do not help your child learn to walk).
infant feeders (you won't need to start solid foods until your baby is able to eat from a spoon)
swings that hang from door frames.