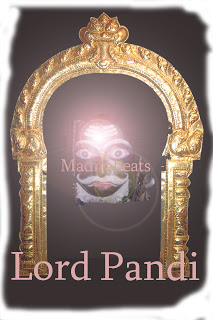 Pandi kovil was located in Madurai, the main lord of this temple "pandi muniswarar" he was the savior
(Kaaval theivam
) of Madurai. The lord pandi was actually an ancient ruler of Madurai who related with the Tamil epic "Silapathikaram". People worship the lord for their wellness.
Let see the story of the pandi kovil, Two hundred years ago a group of people immigrated to Madurai from near karur
(
a small town in India
) and they tented on a place which is today's pandi kovil. An old couple named valliammal and periasamy was also in the group, in the night valliammal had a dream. In that dream, a long beared saint appeared and said that he was the ancient ruler Pandiya Neduncheliyan who gave misjudgment to kovalan. For that i was born again a human, i always did thavam(
a kind of meditation or yoga
) and prayed the lord Shiva. The lord accepts my prayers and i surrendered his feet and this place once my palace . Dig here, my idol is there in eight feet depth and built a temple for me. I will save you and your group from all your problems, then he disappeared . Valliammal awakened and told about her dream to everyone, they dig the place and found the idol of pandi muniswar and built a temple there and worshiped him. Their successors are still taking care of the temple.
At first the temple was a small hut, then it was developed as what today the temple. There are some other interesting lords like "samaya karuppar", people sacrifice animals( cocks,goats) , liquor , cigars and some times 'kanja' (
opium kind of thing
) to this lord . people sacrifice when their needs fulfilled.
The main lord pandi was
vegetarian
, so people only sacrifice him the rice and fruits. Most of the people in the nearer area are named "pandi" the savior lord's name.