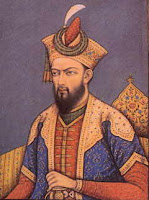 The Delhi
King Aurangzeb
once conducted a rally, his footwear traveled through south India in an elephant. It traveled many kingdoms, the kingdoms should obey the footwear and have to pay tax to the Delhi kingdom.
All the kingdoms ready to obey the
Delhi
but not "
Madurai",
because of the young "
Muthu veerappa nayakkar
" ("
Grand son of Rani mangammal
l
"). When the indicant rally hits "
Madurai
", muthu verappa nayakkar took the single footwear and asked the representatives "don't your king have two legs?" and continued "tell him to send two foot wears" .Then the represent soldiers are forcefully sent back to Delhi, at first the king Aurangzeb was so angry but then he stopped the" footwear rally". This historical event shown the bravery of
"Madurai"